StarterGenerator.com SPECIALS
For a limited time and subject to availability we hereby offer promotional pricing on selected part numbers to help our loyal customers save money today on their starter generator purchases. StarterGenerator.com specials are offered on a first come-first served basis.
Updated: 9/18/2023
| | | | | | |
| --- | --- | --- | --- | --- | --- |
| | 23048-1121 | Cover, Brush | 1 | New Surplus | $450.00 |
View All Specials
Contact Information:
Phone:
281.389.1881
Email:
Specific tag details available upon request
Prices quoted in US Dollars, FOB Houston, TX.
* Internet Special - Limited Time Offer
* Availability subject to prior sale
Disclaimer: FAA8130-3 / EASA1 / JAA1 alone does not constitute installation certification. In all cases, aircraft maintenance records must contain an installation certification issued in accordance with the national regulations by the user/installer before the aircraft may be flown.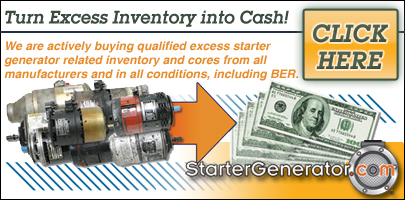 GCU REPAIRS NEEDED !
Attn: Aftermarket
If you are currently able to provide FAA approved MRO services on Aircraft Parts Corp. (Skurka Aerospace) GCU's, please contact us. We are currently considering sources for GCU repairs and would like to offer these capabilities strategically through our website, to new and existing customers. Thanks for your attention.
Models Considered
GCSG501-series
GCSG504-series
GCSG509-series
GCSG502-series
GCSG505-series
GCSG503-series
GCSG507-series